Flame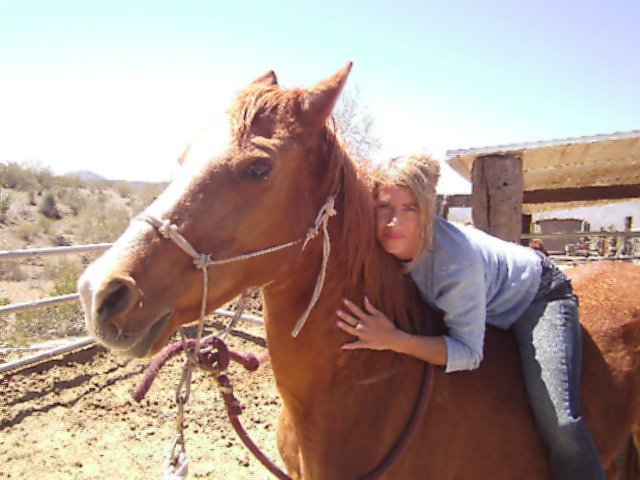 This is Flame, a papered full arabian mare, her papered name is Flame n Heart. And believe it or not she is twenty years old, just one of those great looking oldies. Seen here in these pictures with one of our volunteers Sheri.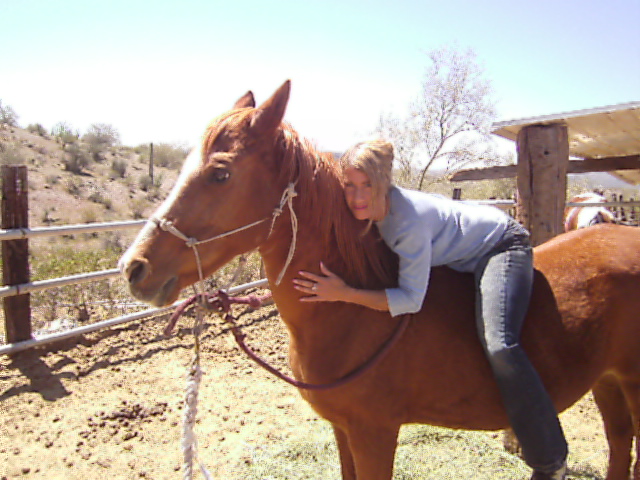 Flame has had a pretty rough life I'm told, there are alot of gaps, but I'll tell you what we have been told by the people who have known her. Sometime in her life she belonged to the California Prison System. They had some kind of reform program where the inmates got to work with horses. It probably wasn't the best place for a young arabian and as you might guess things didn't go well for Flame. From there she went to a rescue ranch that was later closed down and she somehow worked her way into Arizona. She ended up in NW Arizona along the Colorado River and they bred her to have a foal. Flame has Bask on both sides of her family tree so she has the bloodlines. She has no registered foals according to the arabian association.

According to the previous owner she would not accept her foal and during a flare up ended up kicking her foal in the head causing some injuries. According to her previous owner she can never have another foal because she is a hateful mom. We were also told she can never be riden, and when I told the previous owner we had a volunteer sitting on her back, she called me a liar. This actually happens alot so its really no big deal.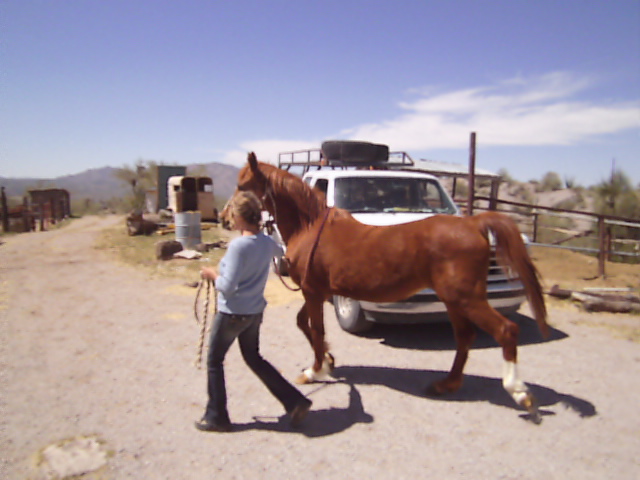 So many times we get horses into the Rescue that have a violent and aggressive nature, but the change almost instantly in these surroundings. Its no doing of ours really, its simply the peacefull atmosphere among all the horses and animals here. Plus whatever was bothering them at the previous location is not here.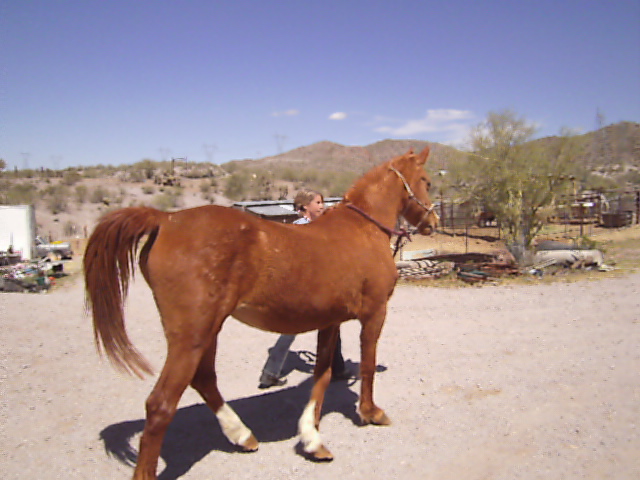 Flame is really a sweetheart. We had to give her some time to sort things out, and slowly Sheri started working on her people skills. When she came here she was petrified of people, know almost anyone can go in and put her halter on. She's had her feet trimmed and she's good on the front feet and little antsy on the rears but still ok. She loves carrots or most any treat. She's still a little skitish, I mean you cant walk up to her yelling and waving your hands around, but calmly and your good. If someone could work with her everyday and share the love shes ready to learn. She can be adopted to the right people or what would really be great would be to find a sponsor or two that could help pay her way and get her the attention she needs so that soon she could be a much better horse. With a little more work she could be included in some of our programs. If your interested in Flame just give us a call or send an email.